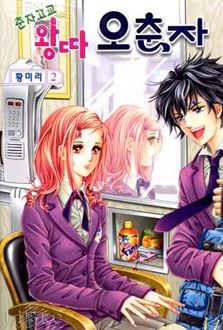 Title: Oh, Chunja Chunja! High School Bullying , 춘자고교 왕따 오춘자, Thủ Lĩnh ChunJa
Author: HWANG Mi-Ri
Genre: Action, Adventure, Comedy, Romance, School Life, Shoujo
Length: 11 Volumes (Complete)
Retranslations:
FRENCH by Mangafake
SPANISH by Tomodachi fansub
Summary
Power, body, charisma all together it shakes the mind. Provoked the gym teacher to seduce his nervous mind. The first kiss then, second kiss to seduce. Who is really the person that makes Chunja's heart thump? That person is…!!
As the school outcast, Chun ja has resigned herself to be being bullied, ostracized and just generally ignored. All this changes one day, however, when she becomes involved with the new gym teacher and the school rebel, Seo Lu, and eventually finds herself drawn to both of them.