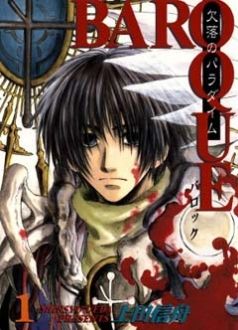 Title: Baroque – Ketsuraku no Paradigm, バロック 欠落のパラダイム, BAROQUE 欠落のパラダイム
Author: UEDA Shinsyu
Genre: Fantasy, Horror, Mystery, Shounen
Length: 3 Volumes (Complete)
Retranslations:
SPANISH by Sweet Yaoi Scans
Summary
A cataclysm has destroyed the cities and empires of men and disfigured the spirit of humanity. In this nightmare, it falls to him to descend a mysterious tower in search of absolution. Is the angel correct that he is responsible for the destruction of the world, and what can he do in this monster infested world to redeem himself?
Based on the Saturn/PSX/PS2/Wii game Baroque.
Title: Apothecarius Argentum, 天才藥師亞爾, 薬師アルジャン
Author: YAMASHITA Tomomi
Genre: Drama, Fantasy, Historical, Romance, Shoujo
Length: 11 Volumes (Complete)
Retranslations:
Summary
As a boy, Argentum was a poison tester for a royal family. Later, he developed an immunity to toxic substances and became a master chemist with the ability to cure any illness. Returning after a long absence, he is assigned to be Princess Primula's bodyguard. But any potential relationship will have its limits, as Argentum's very touch has itself become poisonous.